TAKE A BREATH, STEP BACK, REFLECT, and THEN SET YOUR 2014 GOALS
Looking for a job?  Re-evaluating your small business model?  Want to communicate your worth to your audience be that an employer or a client?
Ready to set your goals for 2014?  Whoa!  Do not rush into a New Year by setting goals and making resolutions you might never be able to keep.  Step back and take stock of the past year and all your successes, and yes, there are many.
Surprise yourself at how much you have really accomplished in 2013. You will then be better prepared to 'accomplish' in 2014 by understanding how and what you achieved in 2013.
List Your Accomplishments, Great and Small.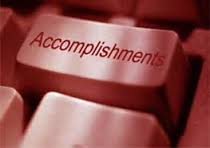 Write down your accomplishments and make a resolution to maintain an Accomplishments Worksheet.  No success is too minor not to have made a difference in your life or the life of someone else.  Make this one of your New Year's resolutions, to keep a running log of your successes in an Accomplishments Worksheet.
Change Your Perspective
Reviewing 2013's accomplishments will change your perspective from what you have not achieved to what you have done and will accomplish in the future.
Taking time to reflect on last year's successes will help you focus on the positive.
Result?  You will increase your accomplishments and make you feel good about yourself and what you do.  And get you ready to take on new and more complex challenges.
So What is an Accomplishment?
Something completed, fulfilled or achieved.  An act or deed that demonstrates your skills, expertise or knowledge.
Ask yourself:
 What single project or task do I consider the most significant accomplishment in my job, career and life so far?
What am I most proud of?
What ideas did I have that were adopted by others? 
How Do You Accomplish?
By using your natural talent and ability, an acquired or learned skill, to make a difference, to get things done, to realize a goal, ambition or objective.
Ready
You are now ready to set your 2014 goals with a foundation set in 2013.  We are there!