DO YOU WORK TO LIVE? 
Most of us work to live, to earn the money we need for the basic necessities of life, to survive.  A singular number of people meet the essentials of life without the necessity to work.
We all work to exchange our labor for the financial ability to buy what we decide is a necessary for our lives. We work to pay our bills, rent, buy food, clothing, save for college, take a vacation, set-aside money for retirement to one day give us freedom from work.
Who will step-in and pay for what is necessary for you to live, and live well?  Rarely will someone else step-in and pay for what you define as necessary for life.
Work also satisfies our emotional needs, improves our morale as productive and contributing members of the communities to which we belong.  Work allows us to feel better about ourselves, improve the quality of our lives.
DO YOU LIVE TO WORK?
The meaning of 'work' is as individual as the person working.  'What is my motivation to work?' The answer varies from person to person.  'Work' might be synonymous with drudgery, obligation, entrapment; or fulfillment, creating a masterpiece, realizing a dream; or a mechanism to move a career forward.
The adage '…the daily grind…' does not always refer to the coffee maker.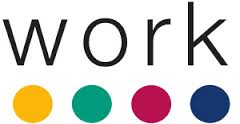 ARE YOU HAPPY AT WORK?
Does your work give you the emotional fulfillment you need to continue in that job? My advice to clients is not to work in the present, but to envision themselves in the future. If you are not happy in your current job, determine what it is that will bring fulfillment and job satisfaction into your life.  Then 'work' toward that goal.
"Find a job you enjoy, and you'll never work a day in your life" are words of encouragement by Confucius.
What is your dream job, and how close are you to attaining that dream?  What will it take to get you there?
WHY DO YOU DO WHAT YOU DO?
Do you enjoy the competitiveness to today's work environment? You may discover you work for the challenges posed by everyday work stresses and conflicts.  Or you may simply work to be more engaged with people, to gain a sense of belonging and community.  Your motivation may be to gain knowledge and earn recognition in your profession and discipline.
Or you may discover it is time for a job or career change because the answer to why you do what you do is not the answer you want to hear.
I welcome your answer to the question, 'Why do you work?'
You may e-mail me to Marcia@thejobsearchadvisor.com.