It is my pleasure to Facilitate the 4TH annual Career Thought Leaders' 'Brainstorming Day' for the San Francisco Bay Area on Friday, November 1, 2013.
This is an event where career professionals – coaches, counselors, resume writers, outplacement consultants, recruiters, college and university career development personnel, and others – meet to brainstorm trends and best practices in the now, the new, and the next in careers.
Previous years have generated great visibility for the participants and remarkable, forward-thinking knowledge about careers, employment, job search, coaching, resumes, career transition, social media, and scores of related topics. What's more, it's fun, stimulating, and energizing to spend 4 hours "talking shop" with your colleagues.
The goals of Brain Day are straightforward and focus on: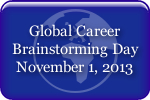 1. Defining our industry's best practices
2. Identifying and interpreting emerging trends
3. Setting new standards for performance
This year, we're hosting events in the US, Canada, UK, and Australia. It's our first Australian event so we're doubly excited, particularly since Australia is just about filled already!
All Brain Day events fill FAST and there is a strict limit of 10 registrations per group. In addition to the 10 attendees, my role is that of Facilitator and I will guide the conversation, collaboration, brainstorming, etc. In addition, there will be a scribe (note taker) who will record our insights, ideas, perspectives, and more. The results of ALL of the Brain Day events are then compiled and published.
If you are interested, please take a few minutes to read the Brain Day details and then register while there's still availability.
Global Career Brainstorming Day – Full Description & Registration Details: http://www.careerthoughtleaders.com/brain-day-2013/.
Please feel free to contact me with any questions you may have.
Thank you!
Marcia Hancock